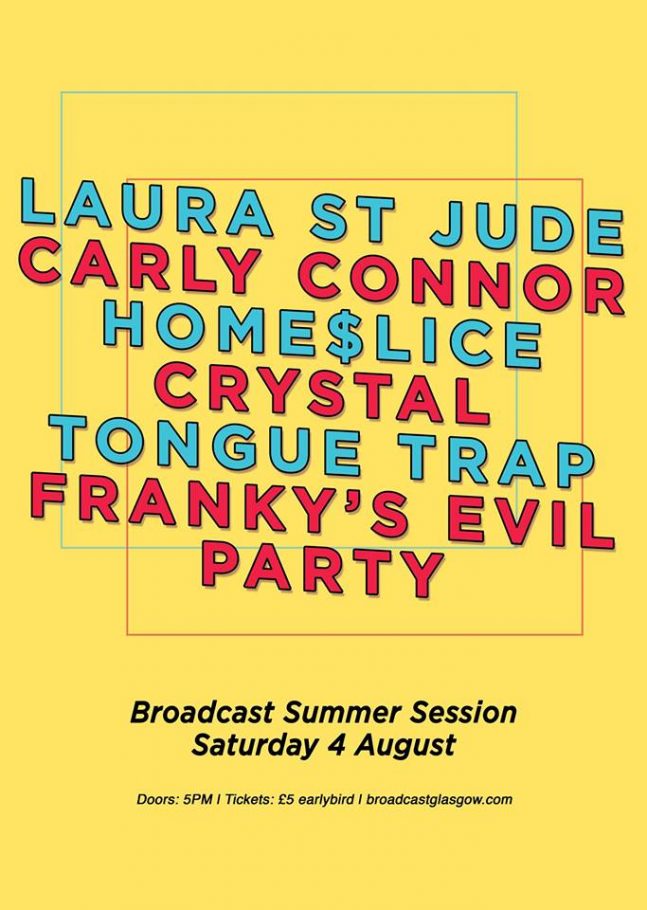 Broadcast Summer Session feat Laura St Jude, Carly Connor, Home$lice, CRYSTAL + More
PCL Presents
BROADCAST SUMMER SESSION
Laura St Jude, Carly Connor,
Home$lice, CRYSTAL + More
Saturday, 4 August
Broadcast, Glasgow
—–
DOORS 5PM
18+ Only
——
Limited EARLY BIRD tickets available now via See Tickets https://www.seetickets.com/event/broadcast-summer-session-early-bird-ticket-/broadcast/1246417
To top off the Summer, we've put together a night of some of our favourite bands and artists in Glasgow to thrill and entertain at Broadcast this August 4th from 5pm.
Laura St Jude – Captivating and hypnotic, Laura St Judes' music is built with eerie melodies and lyrics full of metaphors to build a story through each track.
– The Devils Daughter
https://www.youtube.com/watch?v=S3z6Hd-jzso
Carly Connor – Funky and full of fun Carly Connor, Taking influence from Janis Joplin and early (Ike &) Tina Turner, utilising her powerful voice and heartfelt lyrics to catch your attention and never let go.
-Who's gonna love you
https://www.youtube.com/watch?v=NrX79Ktfo-I
Home$lice – Full of energy and bright guitar tones, Home$lice are the perfect summer band. Having already played Stag and Dagger, BBC Introducing and Xpo North it's looking like it'll be a good year.
-Out of Sight
https://www.youtube.com/watch?v=IajAHYrwv4I
CRYSTAL – Fresh off the stage from Kelburn, CRYSTAL are direct, fierce and bold. The 4 piece Garage band are mesmerising on stage, with woozie vocals, and hard hitting riffs.
– Heaven
https://www.youtube.com/watch?v=TN4dR6PcqAU
TONGUE TRAP – 3 piece punk band, who look like they're having as much fun on stage as they are to watch, punk filled tracks, with a lighthearted twist
– Black Dog
https://www.youtube.com/watch?v=QdcIrHFcZYw
Franky"s Evil Party – Bold and fresh, drowzy punk coupled with captivating melodies and forcefully dancey rhythms.